The Penguin English-Hindi/Hindi-English Thesaurus and Dictionary by Arvind Kumar and Kusum Kumar is the definitive dictionary cum thesaurus of Hindi and English.
10% EXCLUSIVE DISCOUNT ON ONLINE PURCHASES

GET IT TODAY FOR Rs. 3600.00 only!
(plus Rs. 250 shipping within India)

With 6,00,000 expressions in English and Hindi, this unique bilingual resource offers a vast repertory of synonyms and antonyms along with cross-references to similar and opposite concepts, a feature not found in any thematic thesaurus so far.

Order Online Below

or Call

09810016568

or Email
A landmark in bilingual lexicography, the thesaurus:
Covers language in its entirety: Science, Technology, Law, Arts, Society, Politics, Religion, Philosophy …
User gets synonyms and antonyms along with similar and opposite concepts in English and Hindi side–by–side
Provides a complete understanding of Indian culture
The bilingual Index cum Dictionary (from English + from Hindi) contains numbers that point to the bi lingual listing of synonyms in the Thesaurus.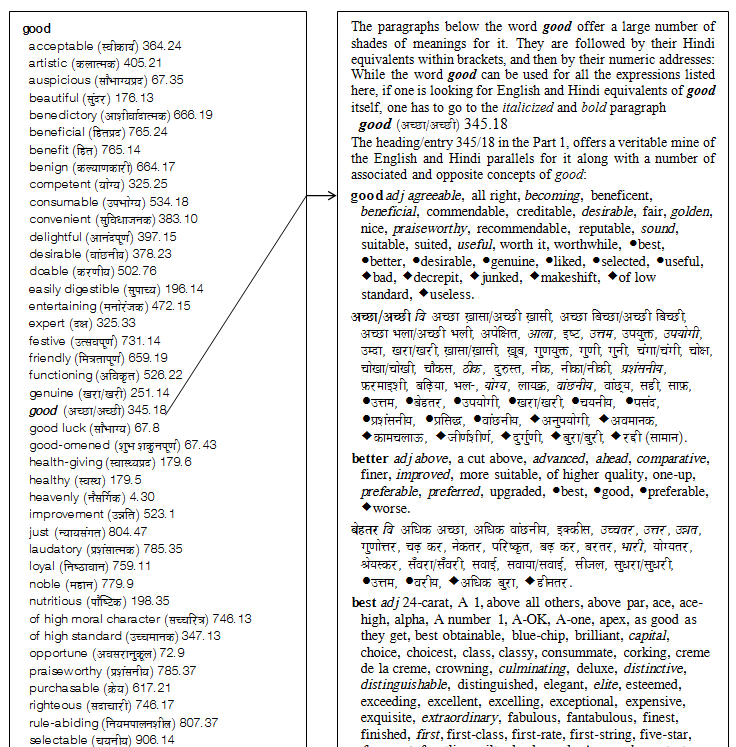 Originally published by Penguin India, all rights have been purchased by Arvind Linguistics. Arvind Linguistics is now the sole owner and distributor world wide.
A Photo Gallery of the release function is here.
You can buy this book online safely and easily using all Indian or International Credit and Debit Cards as well as PayPal



or Call

09810016568

or Email
---
Sku

PENGUIN 3 VOL SET

Description

Bilingual Hindi - English Thesaurus and Dictionary - 3 Volume Set

Product Options

| # | Option | Price | Sale Price | Sales Tax | Weight |
| --- | --- | --- | --- | --- | --- |
| 1 | 1 Set | INR 4,000.00 | INR 3,600.00 | Band 1 | 5.00 Kg. |
| 2 | 5 Sets | INR 20,000.00 | INR 16,000.00 | Band 1 | 25.00 Kg. |
| 3 | 10 Sets | INR 40,000.00 | INR 30,000.00 | Band 1 | 50.00 Kg. |

Shipping

(Shipping Zones by Country)

| Weight | Zone 1 | Zone 2 | Zone 3 | Zone 4 | Zone 5 | Zone 6 | Zone 7 |
| --- | --- | --- | --- | --- | --- | --- | --- |
| 0.10 Kg. | INR 25.00 | INR 400.00 | INR 800.00 | INR 1200.00 | INR 1600.00 | INR 2200.00 | INR 2400.00 |
| 1.00 Kg. | INR 75.00 | INR 600.00 | INR 1200.00 | INR 1500.00 | INR 1800.00 | INR 2100.00 | INR 2400.00 |
| 4.00 Kg. | INR 350.00 | INR 800.00 | INR 1200.00 | INR 1800.00 | INR 2400.00 | INR 3000.00 | INR 3400.00 |
| 6.00 Kg. | INR 500.00 | INR 1200.00 | INR 1600.00 | INR 2000.00 | INR 2400.00 | INR 2800.00 | INR 3200.00 |
| 10.00 Kg. | INR 800.00 | INR 1600.00 | INR 2000.00 | INR 2400.00 | INR 2800.00 | INR 3200.00 | INR 3600.00 |
| 20.00 Kg. | INR 1500.00 | INR 2400.00 | INR 2800.00 | INR 3200.00 | INR 3600.00 | INR 4000.00 | INR 4400.00 |
| 30.00 Kg. | INR 2200.00 | INR 3200.00 | INR 3600.00 | INR 4000.00 | INR 4500.00 | INR 5000.00 | INR 5400.00 |
| 40.00 Kg. | INR 2600.00 | INR 4000.00 | INR 4400.00 | INR 4800.00 | INR 5200.00 | INR 5600.00 | INR 6000.00 |
| 50.00 Kg. | INR 3200.00 | INR 5000.00 | INR 5400.00 | INR 5800.00 | INR 6000.00 | INR 6400.00 | INR 6800.00 |